The Entertainment Industry needs to stay at the cutting end of technology. With picture formats heading towards 8K, studios and post-production houses need to ensure their staff can work efficiently. We can tell you from experience, trying to edit a 4K workflow over a network share using gigabit ethernet is NOT FUN AT ALL! 
Let's get you up to speed (like, really fast speeds).
To be able to work efficiently when dealing with large format video and multiple employees, you need to keep your infrastructure up to date. Gigabit Ethernet is in the past. We'll help you plan out a 10G Base-T rollout (10 Gigabit Ethernet) to enable lightning-fast file transfers and editing performance on your network! 

Not wired? Ask us about deploying WiFi 6 access points in your office space, allowing your staff the freedom to work wirelessly without sacrificing performance.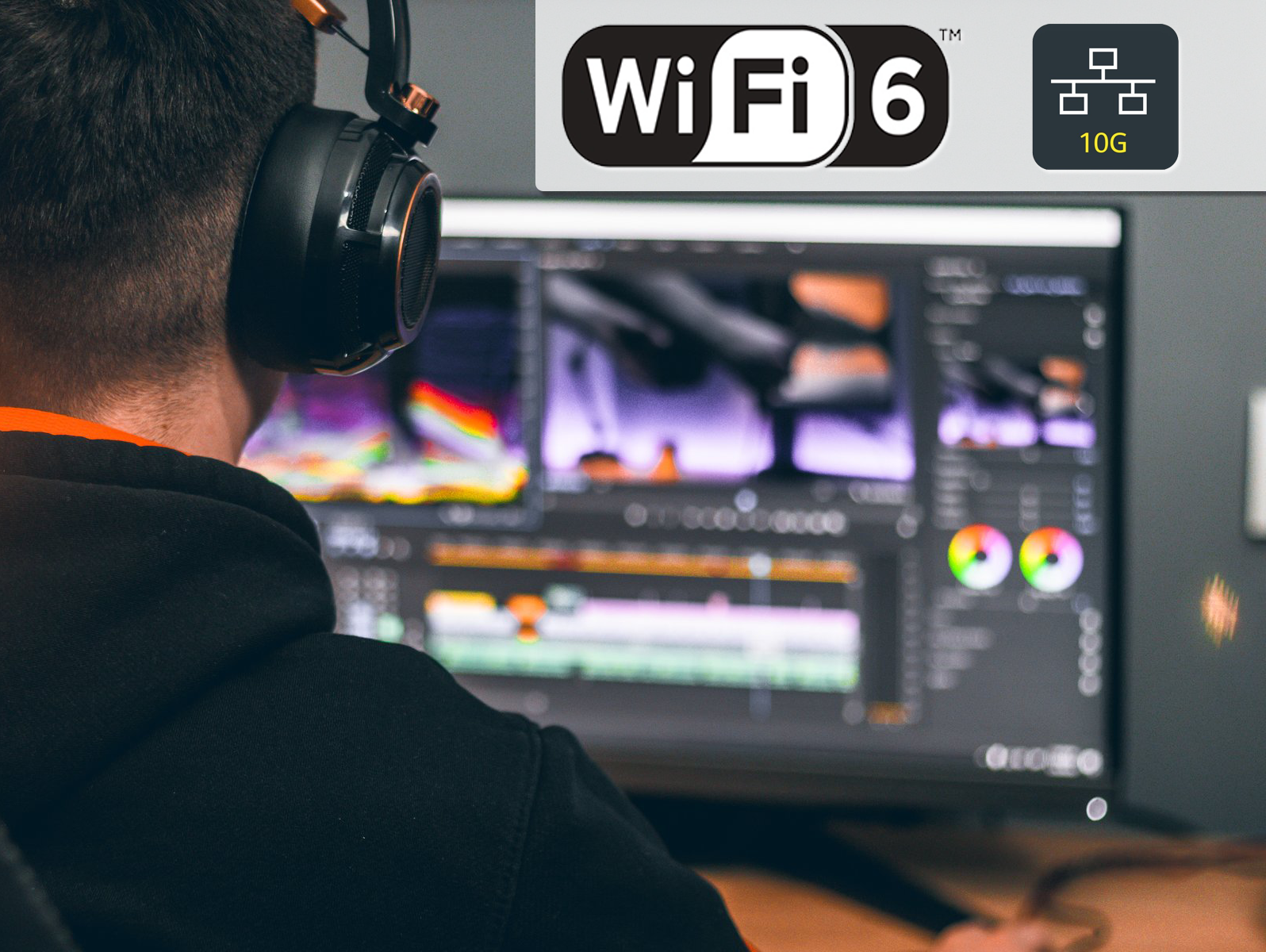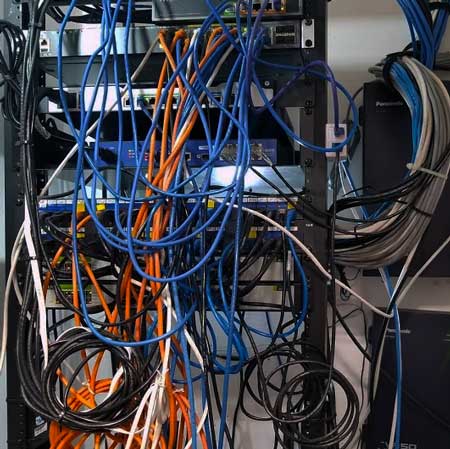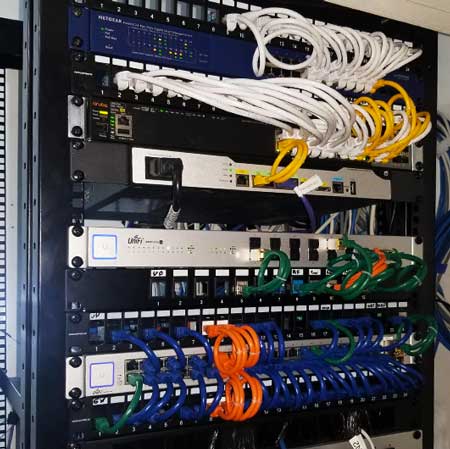 Cable Management is Key
Does your existing system need a bit of TLC? We'll organize and inventory your entire IT infrastructure, and suggest any upgrades along the way. Just take a look at some of our before and after scenarios to see what we can do!

Keeping your server racks neat and tidy is not only aesthetically pleasing but it makes maintenance and upgrades much more efficient, saving you time and money that would otherwise be wasted sorting through a cabling nightmare.
Yes, Mac's do get Viruses
You may have an office full of Apple computers but that's not enough to keep your network secure. You need to take extra precautions to ensure your company data, your client's information, and those big studio contracts and scripts stay under wraps! 

Yeah yeah, back in the early days' Apple wasn't a target for malware and viruses. This was true, but the reason WAS that they just weren't popular. The Windows PC reigned supreme and thus attracted the full attention of script kiddies and hackers. But today, Apple devices are more popular than ever, making them ripe targets for an attack. Especially considering the false stigma that "Mac's don't get viruses" is alive and well. 

Aside from the machines themselves, we'll work with you to lock down your network, your servers, and your wifi. No more using your Company name with some numbers and semicolon as your WiFi password. We can roll out a Radius system giving your employees the ability to login into everything with the same username and password. 

The WiFi, the printer, the server, employee cellphones, and workstations, all sharing the same user credentials. It's a think of beauty.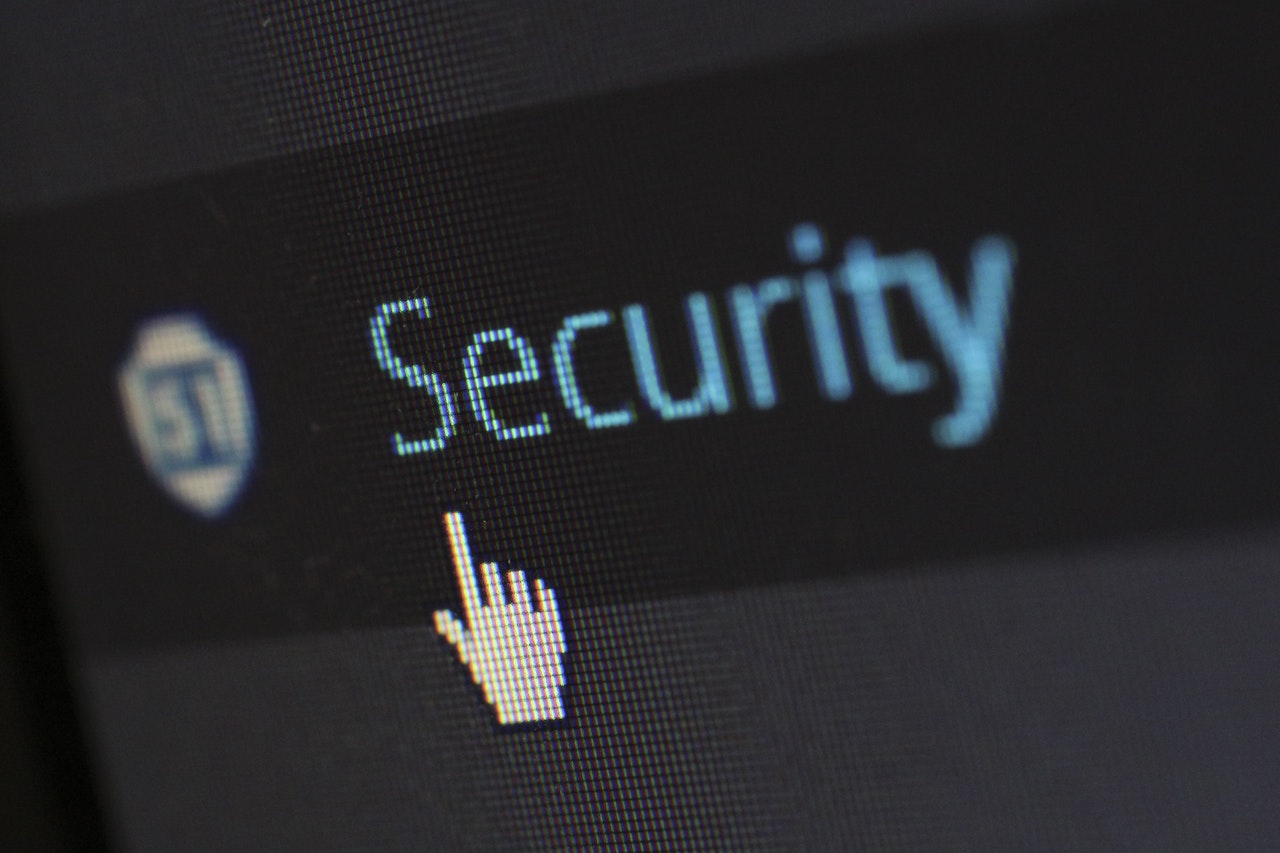 Trusted Security Partners

Stop collecting
Hard Disk Drives!
If you're still buying individual hard disk dives for every project you produce, you're not only working inefficiently you risk putting your clients work and your business itself at risk. 

Speak with us about deploying a scalable storage solution for your needs. A properly setup Network Attached Storage system not only allows you to keep increasing the size of your storage pool. It also allows you the freedom to share your workflow with multiple editors and machines, access files at greater read and write speeds than you can with a single drive (using 10GB+ Ethernet), and prevent data loss by always having disk parity within the storage array (every time you copy a file to network storage you'll automatically have a backup in case a drive ever fails),
Internet where you need it.
Our mobile internet systems are designed to handle any job. Whether you're shooting a feature in a remote location and need to send your dailies back to the studio or you're attending a conference and need to supply courtesy internet access to your guests and staff members.

We utilize ISP bonding technology compatible with all GSM cellular carriers around the world, to give you a robust system with incredible speed, security, and reliability. 

We'll not only supply you with a broadband source but with distribution options as well. We can deploy access points across your location to ensure proper Wi-Fi signal distribution, and run hard lines to the most important operations, like DIT. 

Speaking of DIT... We can also load this portable setup with 10-gigabit network-attached storage, for fast offloading of data with integrated redundancy. 


Ready to overhaul your IT department?
You've seen how we can help, now let's figure out what you need to do to make sure your business is ready for the next technological challenge. Contact us today for a free consultation!